Superior Inspection Ports for Non-Destructive Testing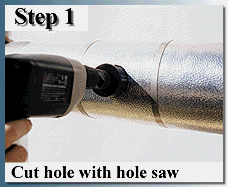 Inspection Plug Strategies manufactures inspection ports and inspection labels for use when performing non-destructive testing (NDT) for corrosion and erosion loss on piping and equipment in compliance with the Process Safety Management and Mechanical Integrity effort.
Our patented inspection plugs are made of high temperature elastomeric polymers, which are ozone resistant and UV stable, providing many years of trouble-free service. The patented flange of our inspection plug is self-locking and self-sealing; eliminating the need for screws, lock down rings, silicone caulk, or swaging tools.
Inspection Plug Strategies' unique inspection plug designs work equally well on smooth, embossed or corrugated jacketing without the need for a corrugated transition gasket; and contours to elbows without field cutting.
Inspection Plug Strategies' inspection plugs have been proven superior in service at many leading producers around the world.
Seal your NDT Inspection Points quickly, easily and strategically with our truly watertight system.
No Bag Full of Tools During Installation

No Transition Gaskets for Corrugated Metal
No Sealants to Dry Out and Peel Off Leaving a Passage for Penetrating Water

Makes a positive water tight seal